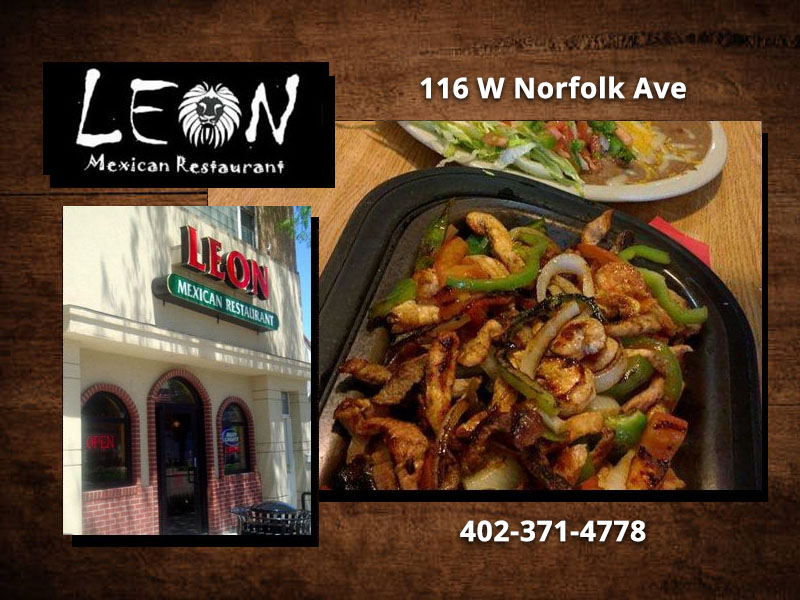 About the Business
Welcome to Leon's Mexican Restaurant in downtown Norfolk, NE! We are proud to bring to you authentic Mexican food. Our chips, salsas, taco shells, and desserts are freshly made.
Come and try our delicious menu items, including the Burrito Grande with rice, beans, guacamole, sour cream, pico de gallo, and lettuce. Other great menu items include the Chimichanga, Quesadilla, Enchiladas, Fajitas and more great authentic Mexican food items.
We also offer a variety of other delicious menu items like the Fajita Taco Salad, Fajita Nachos, Tacos, Mexican Rice and beans, Sopapilla, Flan, Enchilada Seafood, Tostada, Tostaguac, Chalupa, Tamale, Taquitos Mexicanos, Fajitas (chicken or beef), Shrimp Quesadilla, Beef Quesadilla, Chicken Quesadilla, Fried Tilapia, and Shrimp Tostada.
Don't forget to try our Famous Leon Fries, which consists of a bed of crispy French Fries, topped with your choice of Steak or Chicken, and covered with our Delicious Cheese Dip and Sour Cream!
Leon Mexican Restaurant has been serving fresh, hot, and authentic Mexican food in Norfolk, Nebraska since 2004. Daily specials available on food and drinks! Come and visit us at 116 W Norfolk Ave, Norfolk, NE 68701.
Year Est.: 2004
Business Photos (1 Photos)